Tension and Trauma Release Exercise (TRE) Workshop
with
Nan Ayers
September 11, 2016
4:00 pm -- 7 pm
Yoga Center of Marin
518A Tamalpais Avenue, Corte Madera 94925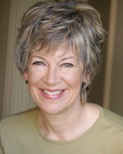 Nan Ayers, MAW instructor and winner of the prestigious Dean Goodman Award for outstanding acting, is offering something unique. Relaxation is a word we hear often, but seldom really take seriously. Nan will teach you how to relax completely . . . at your core!
Tension and Trauma Release Exercises can be done by people of all ages and are adaptable for everyone's movement limitations. You'll be introduced to your body's innate ability to release even deeply-held chronic stress, helping you restore, relax and re-awaken a more resilient YOU.

TRE Provider, Nan Ayers is a certified Pilates Instructor, Resorative Exercise Specialist, and Healthy Foot Practitioner. Nan began exploring healing arts to recover from the effects of a motorcycle accident she suffered in her 20s. Each of these modalities has been instrumental to her recovery from what became an arthritic knee. Now very nearly back to 100%, Nan loves to share these secrets to ever more vibrant living.
Enroll Now! $45