Voice-Overs: The Big Picture
Two Saturdays - July 9 and 16, 2016
10 am to 5 pm
This experiential and informational workshop is designed for beginners and veteran actors in need of a refresher. And everyone in between.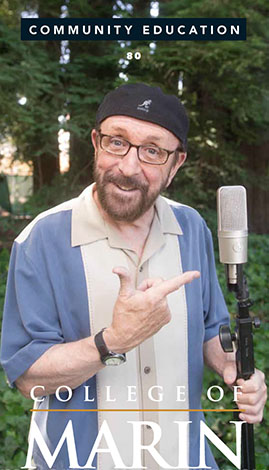 This is a chance to have time on the mic with a critique from Terry McGovern, as well as learn everything you've ever wanted to know about the business and marketing side of being a successful voice over actor.
This experiential and informational workshop provides great instruction and lots of scripts to work on.
Terry McGovern, the voice of Launchpad McQuack from Ducktales and Darkwing Duck fame, the voice of "These are not the droids you're looking for." from Star Wars, the voice of Sega NFL, will share with you his knowledge of the voice-over business.
Voice Overs:
The Big Picture
July 9 and 16, 2016
10 am to 5 pm






Kentfield Campus
Location: Academic Center, Rm 237

Fee $99 (includes $2 materials fee)
Course #: Drama 9419/582.

Please note: College of Marin classes can only be enrolled in through the college, not through MAW.

Ways to Register with the College of Marin:

You may register by touch tone phone if you are a continuing Community Ed student. Dial 415-883-3217 and use your Visa or MasterCard.

To sign up in person, go to the Admissions & Records office on either the Kentfield or Indian Valley Campus.

By Mail: Admissions & Records, College of Marin, 835 College Ave., Kentfield, CA 94904.

Or you can bring cash or check to the class and register with the instructor before the class. Credit cards not accepted.
For more information or to obtain a registration form, call 415-485-9311